SMASH- Middle School Ministry
Wednesday Nights
6:00-7:30 pm
SMASH is our weekly large group gathering for students in 6th-8th grade. We meet on Wednesday evenings during the school year from 6-7:30 pm in the worship center. We know that life in middle school can be awkward and hard, which is why we aim to cultivate a fun atmosphere where students can engage in healthy relationships with other students and adult leaders. Most importantly, SMASH is a place where students will be taught about Jesus and challenged to grow in a daily relationship with Him.
We also have a class that meets on Sundays from 9:45-10:45 am ,where we sit down and study God's word together.
TO REGISTER YOUR STUDENTS FOR SMASH ON WEDNESDAY NIGHTS DURING THE 2023-2024 SCHOOL YEAR, CLICK THE BUTTON BELOW.
​Throughout the year SMASH has other activities aimed at helping our students grow in community with one another, and closer to Jesus.
Here are a few examples:
DNOW (WINTER/EARLY SPRING)
SUMMER CAMP (SUMMER)
WILD WEEK (SUMMER-6TH-8TH GRADERS)
FALL OUTREACH NIGHT (FALL)
For more information on any of these activities/events, visit our website, follow us on Social Media,
or sign up to receive SPECIAL SMASH TEXTS:
**TEXT THE SHORT CODE "SMASH" TO THE NUMBER 512-729-5989 TO GET SMASH TEXT UPDATES.**
SMASH FALL 2023 CALENDAR
TEACHING SERIES
Going Places- A teaching series on Friendship
Beneath the Surface- A teaching series on Identity
Grateful- A teaching series on Christmas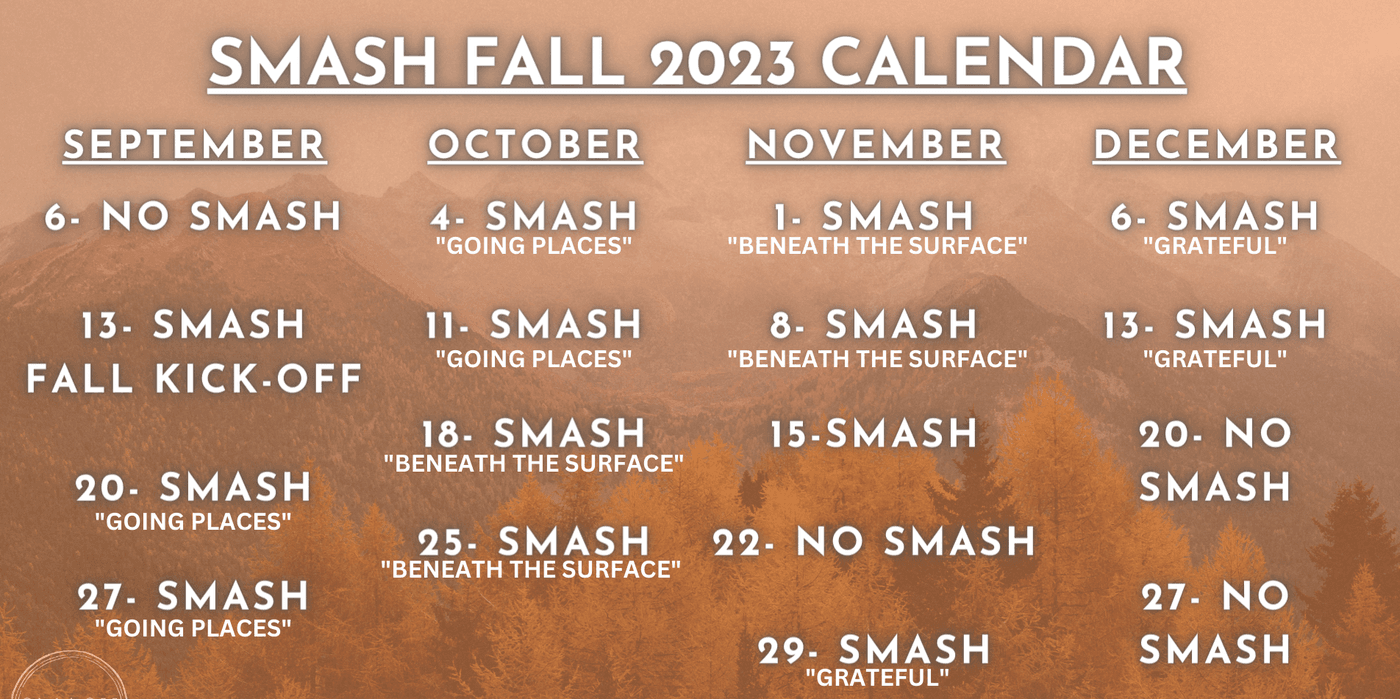 From Pastor Dan:
SMASH is our middle school ministry that meets on Wednesday nights throughout the school year from 6:00 pm- 7:30 pm. We value relationships, fun, and Jesus! Each week our students will have opportunities to connect with our great adult leaders and peers in fun ways so they can be truly known and accepted. We walk through relevant Bible lessons each week, learning to follow Jesus and depend wholly on Him. We also strive to leave each week challenged in our personal growth. You don't need to be an insider to be part of SMASH, you just need to be a middle schooler, and you're invited, so come hang out with us!